Melissa S. Singer, M.D., M.P.H., F.A.A.P.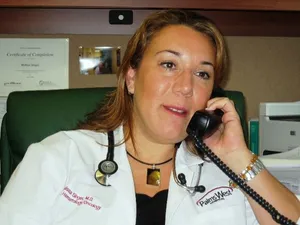 After graduating from Cornell University where she majored in Psychology, Dr. Singer attended the University of Miami Medical School. She did her Internship in Pediatrics at Georgetown University in Washington DC. Returning to Florida, she completed her Residency in Pediatrics at Jackson Memorial Hospital at the University of Miami. During her Fellowship in Pediatric Hematology-Oncology at the Children's National Medical Center in Washington DC, she received a Master's of Public Health in Epidemiology at George Washington University. Dr. Singer is Board Certified in both Pediatrics and Pediatric Hematology-Oncology. Dr. Singer also completed a Fellowship in Integrative Medicine at the Arizona Center for Integrative Medicine, the University of Arizona under the Directorship of Dr. Andrew Weil

Dr. Singer currently is a member of the Palms West Hospital Board of Trustees. Previously she was the Chairperson of the Department of Pediatrics at Palms West Hospital and a member of the CME Committee. She is the chair of the bimonthly tumor board sessions, and lectures monthly to the medical students and residents. Dr. Singer was given the Palms West Hospital Attending of th Year in 2012, voted by the pediatric residents. Dr. Singer was the Secretary and board member of The Leukemia & Lymphoma Society of Palm Beach County for several years and is on the Patient Services committee which is dedicated to providing educational activities in the community. Dr. Singer also was the Secretary and Treasurer of the Florida Association of Pediatric Tumor Programs, a board member of the American Cancer Society, and a board member and Chair of the Women's Physicians Section of the Palm Beach County Medical Society.
Dr. Singer was the 2007 National Woman of the Year for the Leukemia & Lymphoma Society, raising $289,000 in ten weeks.
Dr. Singer is currently a member of the Medical Staff at Palms West Hospital, St. Mary's Medical Center, Wellington Regional Medical Center, Bethesda Memorial Hospital and West Boca Medical Center. Dr. Singer was appointed Clinical Assistant Professor in Department of Pediatrics at Nova Southeastern University College of Osteopathic Medicine. The Practice is fortunate to work with the Pediatric Oncology Support Team (POST) for supportive services for pediatric oncology patients, as well as The Kids Cancer Foundation, Little Smiles, The Connor Moran Foundation, The Leukemia Lymphoma Society, The Sickle Cell Foundation, South Florida Children's Cancer Network, United Order of True Sisters, Make-A-Wish Foundation and Children's Wish Foundation.

Palm Beach Pediatric Hematology-Oncology and its experienced staff are committed to providing their patients with comprehensive, personalized care and a warm, welcoming environment for their patients and families, state-of-the-art with a heart!